Our roofing pros provide fast, clean quality work at a cost you can afford.
Metal
Shingle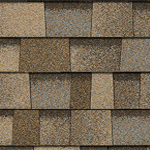 Tile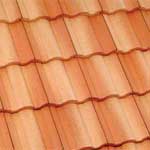 Flat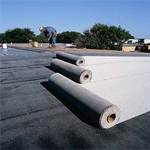 Coatings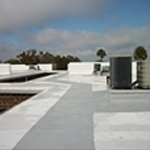 What Will Your Roof Cost?
We do full inspection and assessment, including a detailed explanation of your estimate.
Use the calculator below to get an idea of project cost.
About Our Process
We work with the top manufacturers in the industry, using high quality roofing materials.
To learn about what to expect during your roofing project, please visit this informative page, from our sister site:
Roofing Sarasota Frequently Asked Questions, which will open in a new tab.
You can view our completed roofing projects at our sister site as well.
Please visit: Roofing Sarasota Gallery Page, which will open in a new tab.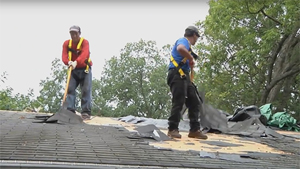 Removal of Existing Material
Replacement of Rotten Material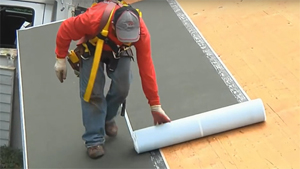 Installing Secondary Water Barrier
Installing New Material
Shingle Roofs
For over 15 years we have installed CertainTeed brand shingles and are continually impressed with their high quality products. We also install GAF Timberline shingles.
Landmark Shingles Take Roofing to a Higher Level
Durable, beautiful color-blended line of shingles. The widest array of colors to suit any trim, stucco or siding color. Manufactured with self-sealing adhesive strips and a wide nailing zone, larger than competitors for ease of installation so your roofing job is complete in no time.
CertainTeed warrants that its shingles will be free from manufacturing defects, and provides the extra assurance of SureStart™ protection. Below are highlights of the warranty for Landmark™. See CertainTeed's Asphalt Shingle Products Limited Warranty document for specific warranty details regarding this product.
• Lifetime, limited transferable warranty
• 10-year SureStart™ warranty (100% replacement and labor costs due to manufacturing defects)
• 10-year StreakFighter™ warranty against streaking and discoloration caused by airborne algae
• 15-year, 110 mph wind-resistance warranty
• Wind warranty upgrade is available for Landmark up to 130 mph. Specified CertainTeed starter and CertainTeed hip and ridge are required
Silver Birch


Cobblestone Gray

Sunrise Cedar


Mojave Tan


Weather Wood

Georgetown Gray


Colonial Slate


Driftwood


Resawn Shake

Heather Blend


Pewter


Atlantic Blue


Hunter Green


Cottage Red


Burnt Sienna


Moire Black


Charcoal Black


Shingle Product Brochures
Tile Roofs
We use Eagle Florida Collection Tile products for our tile applications. This line has always produced a high quality product for us. Eagle provides you with a wide range of diverse colors, styles and textures to complement any residential or commercial architectural design. Whether your interest is durability, energy efficiency and/or unsurpassed curb appeal, we carry a concrete tile roof to meet all of your needs.




Flat roofs
Modified and Single Ply systems are great for flat or low slope roofs, where shingles or other products will not be appropriate.
Modified
Description
RUBEROID® TORCH GRANULE membrane is a tough, resilient modified bitumen membrane manufactured to stringent GAF specifications. Its core is a strong, resilient, non-woven polyester mat that is coated with weather resistant APP polymer modified asphalt.
Uses
RUBEROID® Torch Granule Membrane is designed for new roofing and reroofing applications as well as flashings. It is also an ideal product for repairs of built-up roofing membrane or other modified bitumen systems.
Advantages
• Typical system guarantees available for up to 15 years
• Select system constructions available with up to 20 year guarantee coverage
• Cost effective — the installed cost is less than most single-ply systems on the market today
• Lightweight — installed roof designs weigh less than 2 pounds per square foot
• Resilient — Resist splits and tears due to its pliability and elongation characteristics
• Durable — specially formulated modified asphalt for lasting performance
• Backed by GAF, a company with over 100 years in the roofing business

Single-ply
Single-ply roofing works well for any type of building, but it's most efficient for flat roof styles where traditional shingles aren't appropriate, and single ply is much more secure than tar or spray-on materials.
Why TPO?
• Great Value — Superior performance at a cost-effective price
• Excellent Seam Strength — Heat-welded seams provide greater seam strength to taped and other seams
• Long-term Weathering — Excellent long-term heat and UV resistance
• Energy Saving — Highly reflective and emissive white roof can help reduce energy costs and urban heat island effect
• Versatile Application Method

Why GAF EverGuard Extreme® TPO?
Get the performance beyond a 60 mil TPO in a 50 mil product!
Best performing TPO in heat aging and UV tests — the best predictors of TPO performance
— After accelerated heat aging at 275°F (135°C) for 190 days,
EverGuard Extreme® TPO showed no cracking — while every one of the competitors» samples had failed!
— UV testing — Greater than 4.6x the industry standard (ASTM D6878 weather resistance test)
Guarantees are available up to 25 years when using EverGuard Extreme® TPO 50 mil Membrane
High 3‐year aged reflectance of 0.72 can help reduce energy costs
Commercial Product Brochures
Roof Coatings
Our Commercial Roof Coating Division has revolutionized the way people think about commercial re‑roofing. We offer our customers a verity of coatings to meet their specific application. Our extensive range of coatings are excellent choices for restoring any kind of deteriorating but still functional roofs, we also have products for new construction.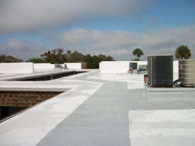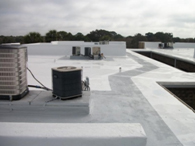 Certified in Tremco, Lucas, & Gaco products
We save our contractors, management companies, and property owners up to 50% compared to a reroof. Many are Energy Star qualified and can help decrease a facility's energy use. All are easily installed without torches or hot kettles, improving safety. Coated roofing is an excellent choice for installation on occupied buildings.